General rules on the recreational fishing in The Balearic Islands
   The regulations on recreational fishing is very broad. They specifiy how to fish, where, when, minimum catch measures and a list on fishing ban. It can be downloaded in pdf updated in 2011 prepared by the CAIB but the town council can elaborate ordinances which would not be included in this document.


Click here to see the document by the CAIB.
In disfrutalaplaya (enjoythebeach) we have only indicated the five beaches or coves belonging to a special protection area where fishing is prohibited both terrestrial by boat and underwater. These beaches or coves are: Maioris, the Delta, Cala Figuereta, s'Arenalet d'es Verger and sa Font Celada. In general terms, it can be said that in the Balearic Islands fishing is permitted in the whole coastline and open water respecting the port installations, not fishing near swimmers or paying attention to the restrictions at marine reserves. Underwater fishing must be carried out free-diving or swimming signaling the position with a buoy. It can be done during the day. You can fish every day except forthe marine reserves where there are established different fishing days. For fishing in the marine reserves we recommend reading the pdf document mentioned above as in it they are established some more restricitive and minimum sizes, bans on more species, geographical coordinates limiting the areas in WGS-84 and other details that we will not include in this article:
Badía de Palma Marine Reserve
      This reserve covers the coast from Sant Antoni beach to El Dorado. You can fish by land or by boat on Tuesdays, Fridays, Saturdays, Sundays and holidays. The underwater fishing can be carried out on Mondays, Tuesdays, Saturdays, Sundays and holidays. The special protection area where the Maioris and Delta coves are located fishing is not permitted by no means.
Llevant de Mallorca Marine Reserve
   Fishing from land and vessel can be carried out only in the daytime on Tuesdays, Thursdays, Saturdays and Sundays. Collective recreational fishing can be done asking for a special permission. Underwaterfishing is permitted with a license on Tuesdays, Thursdays, Saturdays and Sundays. In the special protection area fishing is notpermitted at all.


Migjorn de Mallorca Marine Reserve
   Both fishing from land and vessel fishing is permitted every day except for the area of Cala Figuereta and the closed area.Underwater fishing is permitted on Mondays, Wednesdays, Thursdays, Saturdays, Sundays and holidays with prior permission
El Toro Island and Malgrat Islands Marine Reserve
   Fishing from land and vessel is permitted every day being limited to one fishing rod and three hooks per fisherman but not allowed in islets. Underwater fishing is prohibited. Fishing from the boat is only permitted from the 1st of October to the 30th ofApril.
The North of Menorca Marine Reserve
   Fishing from land and vessel is permitted except for the special protection and closed areas which are Badia de Fornells covering from the Pla de Mar to Cala Barril. There is a closed season for surface and bottom trolling from the 1st of April to the 30th of September. Underwater fishing is not permitted. <
Table of limitations
   As there are a lot of fishing limitations, we just wanted to represent all these limitations in a slightly more simplified way, the table is as follows: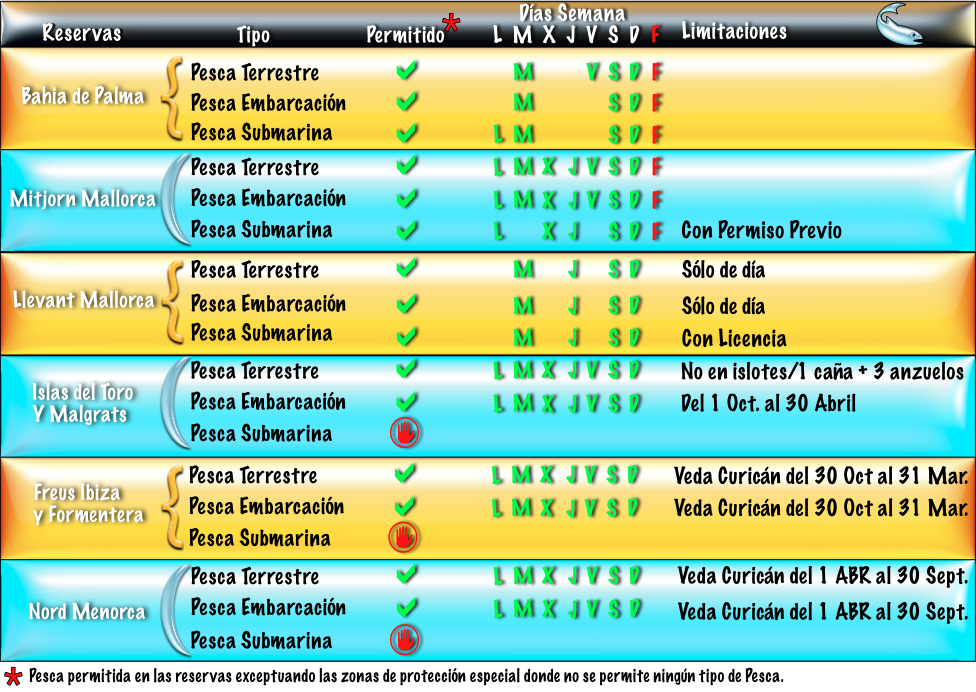 Comments
  
Disfrutalaplaya (enjoythebeach) has made a summary of the general laws by the Govern de les Illes Balears on recreational fishing. It is not responsible for legal restrictions. They are not personal opinions and we recommend consulting those laws published in case of doubt about recreational fishing. At the end of the pdf text there is a complete bibliography where information can be expanded although the municipal ordinances that could have been published by the different town councils in the Balearic Islands, might have not been specified.